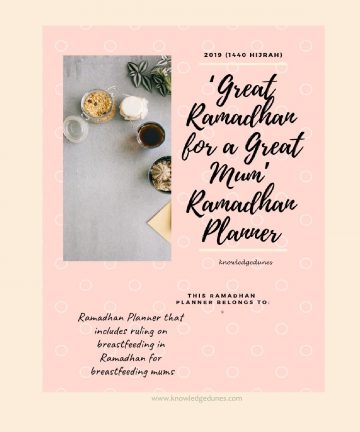 Books
'Great Ramadhan for A Great Mum' Ramadhan Planner was designed to help mothers to keep organized in Ramadhan despite their busy schedule. Filled with 12 logs and planners covers almost all the needed task to be done to grasp the most of Ramadhan. It also contains the related authentic hadiths and verses from Al Quran with regards to the mentioned actions to be done in Ramadhan. The book also contains simple rulings on breastfeeding and fasting for breastfeeding mums.
About the Author:
Dr Fadzidah Ariffin UmmuAbdullah is a medical graduate from National University of Malaysia with 4 years of working experience as a medical doctor. Currently residing in Malaysia, Dr Fadzidah has had lived in several countries following her husband working abroad in Egypt, Sudan, France, Oman and Qatar. Being a mother raising up 6 children in foreign countries has gained her a lot of experience with different cultures and people. She is currently a student in Islamic Online University, has taught Weekend Islamic Classes for english speaking children and teenagers in Oman and Qatar. She is passionate in serving the ummah through Islamic integrated education.
Copyright Note:
All rights reserved. No part of this publication may be shared, reproduced, distributed, or transmitted in any form or by any means, including printing & photocopying, recording, or other electronic or mechanical methods.
Adhering to the copyright policy will enable the IOU University Press to expand and continue to publish beneficial works.
This is a Digital Rights Management (DRM) free book which the buyer may store in multiple devices for personal use only. Sharing and redistributing the book is forbidden.