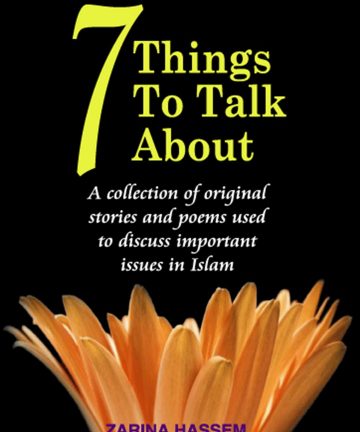 Books
Light-hearted, warm and amusing, this book uses fictional stories, poetry and real life anecdotes to discuss important issues in Islam. While critical social issues are evaluated, readers are also given the opportunity to further reflect in relation to their own lives.
Important and profound, yet ideal for light-reading. This one is a must-read!
Pages: 161
Short biography of the author
Zarina Hassem is a South African Muslim woman, who holds a Master's Degree in Psychology from Wits University. Her work experiences in the psychology field are diverse as they include psychological testing, counselling, play therapy, research, lecturing and workshop facilitation. She regards herself as a student and is continuously in the process of learning. She is a blogger who blogs about Muslim women's issues on her blog Muslim Women Exposed. She is also a member of a women's group called "Islamic Awareness Group". This Group conducts various workshops for women to uplift and educate them. She has recently joined the psychology department at Islamic Online University. Her book titles include; ' 7 Things to Talk About', ' Butterfly Wings', ' The Way Home'. Her Masters Thesis has also been published under the following title; "Women's Groups As A Tool Of Empowerment For Muslim Women".
Copyright Note:
All rights reserved. No part of this publication may be shared, reproduced, distributed, or transmitted in any form or by any means, including printing & photocopying, recording, or other electronic or mechanical methods.
Adhering to the copyright policy will enable the IOU University Press to expand and continue to publish beneficial works.
This is a Digital Rights Management (DRM) free book which the buyer may store in multiple devices for personal use only. Sharing and redistributing the book is forbidden.